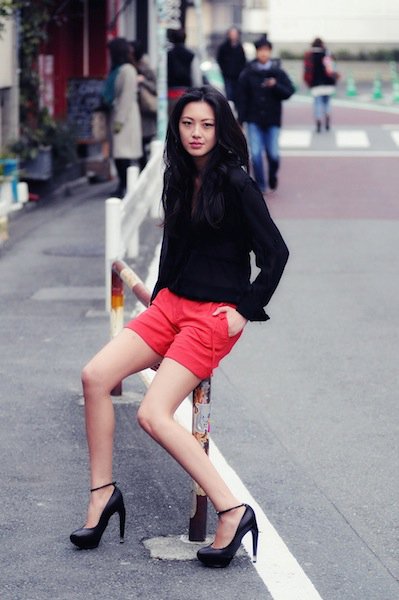 Naomi S. Kida is perhaps the first Japino to make it to the finals of Miss Universe-Japan. Born in Tondo, Manila, in June 1988, she made it to the Top 5 of the beauty contest in Tokyo on June 17, 2011.
Naomi is the daughter of Cristina Rivera Santiaguel of Imus, Cavite and Masami Kida, president of a cement production company.
Fluent in Japanese, English and Filipino, Naomi regularly visits the Philippines and stays in Almanza, Las Piñas, with her aunt.
Representative: Oosaka
Name : Naomi Kida
Age : 22
Occupation : Students
Hometown : Miyazaki
"If I am back here and speak Tagalog, I have to change my [frame of] mind. It takes me one to two weeks to adjust," she told the Inquirer over lunch recently in a restaurant in Salcedo Village, Makati City.
She studied in the Philippines—at the Manila Japanese School and the International School—until Grade 3 before she left for Japan.
She went on to study at the Minamikata Elementary, Nishishima Junior High School and Nobeoka Nishi High School—all in Miyazaki Prefecture in Kyushu.
She just earned a degree in international economics from Hosei University in Tokyo.
At 170 cm or 5'7", she is tall by Japanese and Philippine standards.  Her height served her well as a volleyball player in school and as a model.
On her calling card with her photo, she describes herself as a free-lance model, a tourism education consultant and, of course, one of the 2011 Miss Universe Japan Top 5.
She plans to work in the Philippines and someday put up an international language school to cater to Japanese who want to learn English.
Her dream is to become a bridge between Japan and the Philippines.
How did your parents meet? Where?
I'm not sure, but I think they met in Kumamoto, Japan.
How old were you when you left the Philippines for Japan to study?
Actually since I was 1 year old I have been going back and forth to the Philippines and Japan. But when I was 10 years old I started to live in Japan longer than in the Philippines.
The transfer to Japan was probably not easy because of the new setting, new classmates, etc. How did you cope with these challenges?
At first, it was so difficult to have new friends and sometimes I couldn't speak Japanese fluently. But I don't know how I got used to it. I think kids are more flexible than adults. So, I just naturally adjusted to the Japanese community.
Where in Japan did you stay?
My hometown is Nobeoka City. It is located in the northern part of Miyazaki Prefecture. Nobeoka City is the second largest city in Miyazaki prefecture. The population is around 140,000. It is known for its beautiful scenery. I finished my elementary, junior high and high school in Nobeoka. I moved to Tokyo for my university education.
How often did you return to the Philippines?
Before, I came back to the Philippines once a year. Since I went to university, I come back maybe twice a year. I usually stay in Las Piñas City with my relatives.
You said you played the role of a "mood maker" of the junior high school volleyball team, what does that mean?
It means that I always cheer up my teammates inside the court.  For example, when my teammate made a mistake, I tried to make them feel that "it's OK." I played volleyball from 5th grade elementary until 3rd grade junior high school. Our team was the best in our city and Top 4 in Miyazaki Prefecture.