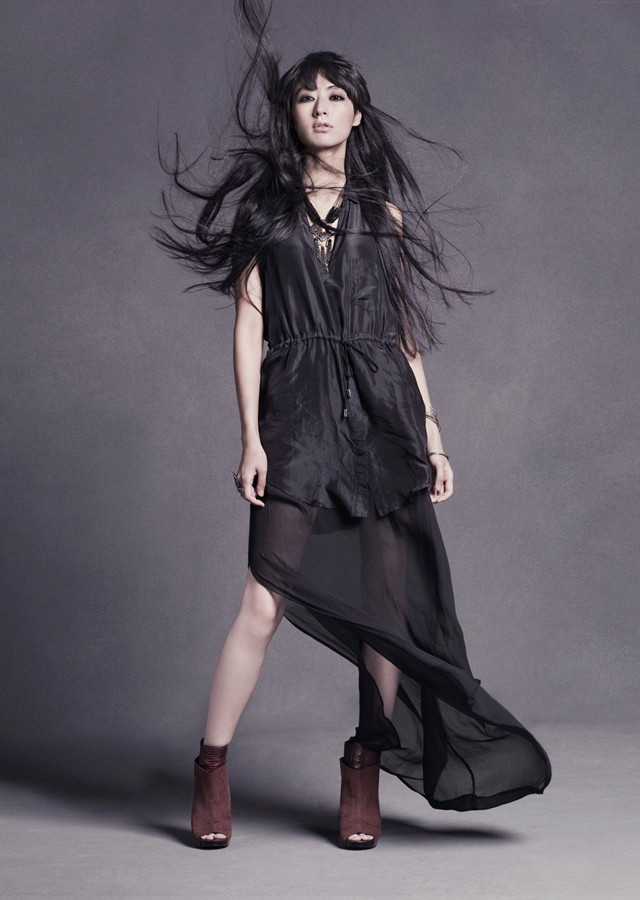 Yuna Shishido (宍戸佑名 Shishido Yūna, born June 23, 1985), known by the stage name Kavka Shishido (シシド・カフカ Shishido Kafuka) is a Japanese drummer and vocalist. Originally a member of the rock band The News, she debuted as a solo musician in 2012 and released her debut album Kavkanize in 2013. She prominently plays the drums in all of her promotions.
Shishido was given the name Kavka for her stage name by copy editor Junpei Watanabe. Shishido always wore black, reminding him of a crow. He picked the Czech word kavka, which refers to the daurian jackdaw.
Shishido was born in Mexico in 1985 to Japanese parents. She lived there until she was two, later going to Japan for elementary school. Between the ages of 13 and 14, Shishido lived in Argentina. She learnt Spanishto use in her daily life, though on returning to Japan forgot it since she had nobody with whom to practice. When she was 14, Shishido was inspired to take up the drums after seeing a live performance on TV. She enjoyed the idea of the drummer being an "unsung hero" of the band, after noticing the camera never focused on the drummer. She was first taught the basics of drumming at 14, by Daniel "Pipi" Piazzolla, a drummer and grandson of tango musician Astor Piazzolla.
Shishido started performing with her own vocals at age 20. In 2004, Shishido joined the all-female band The News as their third drummer.In 2005, Shishido started collaborating with The High-Lows' drummer Kenji Ohshima and Uverworld producer Satoru Hiraide, and made a band called Eddy12 together. During this period, Shishido started to perform in her signature style, performing the drums and singing simultaneously.
While in Eddy12, Shishido was scouted by a record company for her to debut as a solo musician.She was scouted before she started performing the drums as part of her act, but added them back in during discussions for how to set her apart from other musicians.She left The News in 2009, however continued to work with her Eddy12 bandmates who act as producers. She debuted under Imperial Records with the digital single "Day Dream Rider" in May 2012. Since then, Shishido released three physical singles, "Aisuru Kakugo", "Music" and "Kiken na Futari". The latter was used as the opening theme song for the TV Asahi drama Doubles: Futari no Keiji.Shishido released her debut album, Kavkanize, on September 4, 2013. In February 2014, Shishido held her first Japanese tour after the release of her single "Wagamama / Miss. Miss Me".
In September, it was announced that Shishido had switched labels to the newly created Justa Music, a sub-label of Avex Group. She would release new music in spring 2015.