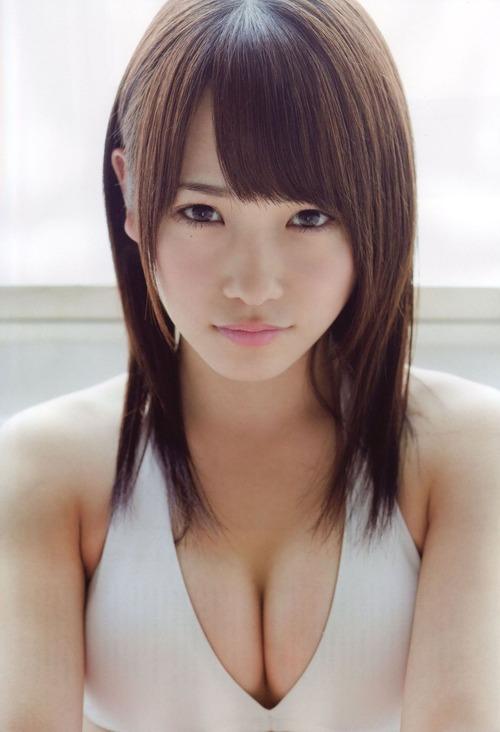 Rina Kawaei (川栄 李奈  born February 12, 1995 in Kanagawa Prefecture) is a Japanese singer/actress. She was a member of the Japanese idol girl group AKB48. She was in Team A. She is also in a group called Anrire with AKB48 members Anna Iriyama and Rena Katō; they were featured in Rino Sashihara's single "Ikujinashi Masquerade",which charted at number one in the Japanese Oricon weekly singles chart.
Kawaei auditioned for AKB48 and was selected to join the seventh kenkyūsei (trainee) generation (11th AKB48 generation overall) in July 2010.
In March 2012, she was promoted to Team 4, and was transferred to Team A in August. Soon after the TV series Shiritsu Bakaleya Kōkō ended on June 30, it was announced that Kawaei would participate in its film adaptation. The movie would star several members from the groups Johnny's Jr. and AKB48.
In 2013, during a broadcast of a special episode of the comedy show Mecha-Mecha Iketeru!, it was announced that Kawaei would perform as center in a song of the special unit BKA48.At the AKB48 general election, she placed 25th with 26,764 votes.At AKB48's general election the next year, she placed 16th with 39,120 votes.
On March 26, 2015, she announced that she would be leaving the group.She had her graduation ceremony, during AKB48's Summer Concert in Saitama Super Arena on August 2, and had her last stage performance on August 4, 2015.
On May 25, 2014, during an event held at the Iwate Industry Culture & Convention Center in Takizawa, Iwate, she, along with Anna Iriyama and a staff member were attacked by a 24-year-old man wielding a handsaw, who was arrested at the scene on suspicion of attempted murder. All three victims suffered wounds including bone fractures on their fingers (reportedly, Kawaei's right hand thumb and Iriyama's right hand little finger were both fractured and cut, the girls also suffered wounds to their heads), and were taken to hospital for surgery. The event, as well as all other group activities on that day, were halted
・name:Rina Kawaei 川栄李奈
・birthday:February 12, 1995
・Birthplace:Kanagawa / Japan
・Debut:2010 The eleventh AKB48 audition
・Category:Idol, Actress
・Main work:TV show,Stage, TV drama