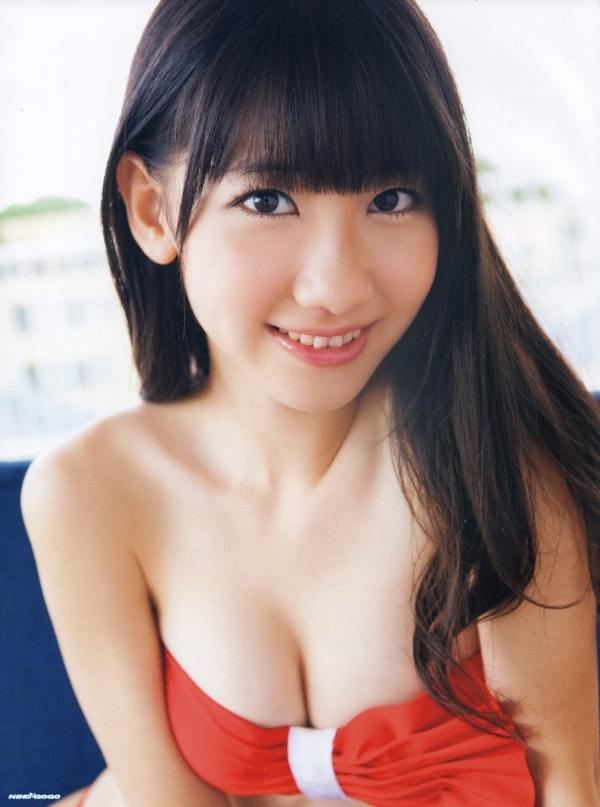 Yuki Kashiwagi (柏木 由紀 Kashiwagi Yuki, born July 15, 1991 in Kagoshima, Kagoshima Prefecture), is a member of the Japanese idol girl groups AKB48, and a former member of NMB48. She auditioned for AKB48 on December 3, 2006, and is now a member of Team B. She was previously the captain of Team B before she was replaced by Ayaka Umeda as the captain.She is also a member of AKB48 sub-group French Kiss. Her talent agency is Watanabe Productions. Her nickname is Yukirin.
She joined AKB48 after an audition in December 3, 2006 and debuted as a member of Team B at the "AKB48 1st Anniversary Live – Seizoroi da ze! AKB!" concert. Before her theater debut, as part of the "AKB48 Haru no Chotto Dake Zenkoku Tour – Madamada da ze 48" tour, she appeared in Yuko Oshima's position on March 17 at the Aichi Welfare Pension Hall and on March 18 at the Fukuoka International Conference Hall. Her first AKB48 theater performance as a Team B member was on April 4, 2007. On March 25, 2009, she joined Watanabe Productions. On April 25, 2009, she became a weathergirl on Tokyo Broadcasting System TV's "Hiruobi". She came 9th place in the member elections for the single "Iiwake Maybe"and was made captain of Team B on August 23, 2009. Her first solo photobook was released on September 20, 2009.[7] In 2010, She was made a member of three-piece AKB48 sub-group French Kiss. During the AKB48 third general election in 2011, she was ranked third place by popular votes, after Yuko Oshima and Atsuko Maeda.
Umeda Ayaka replaced Kashiwagi as the Captain of Team B, during the reformation of teams at the Tokyo Dome Concert held on August 24, 2012.
On February 6, 2013, Kashiwagi made a solo debut on her personal label "YukiRing", with the single "Shortcake".
In the annual general elections held in 2013, Kashiwagi came in fourth place with a total of 96,905 votes.
She then released her second solo single, "Birthday Wedding" on October 16, 2013.
In AKB48 Group Daisokaku Matsuri, held February 24, 2014, she became a member of NMB48's Team N while remaining in AKB48's Team B. She made her first appearance as a member of NMB48 during the group's solo concert in Saitama Super Arena on April 5, 2014. She made her debut at the NMB48 theater on April 30, 2014. [14]
In the group's annual general elections in 2014, Kashiwagi came in third place with a total of 104,364 votes.
Kashiwagi received her first center position for the group's 39th single, Green Flash since her debut in 2006. This single has two centers, the other center being Haruna Kojima.
On March 26, 2015, it was announced that she would release from her concurrent position in NMB48, and hold a concurrent position in NGT48 which is planned to be formed in 2015. She placed No.2 in the AKB48 general election in 2015, and was selected for the 41st single senbatsu members.