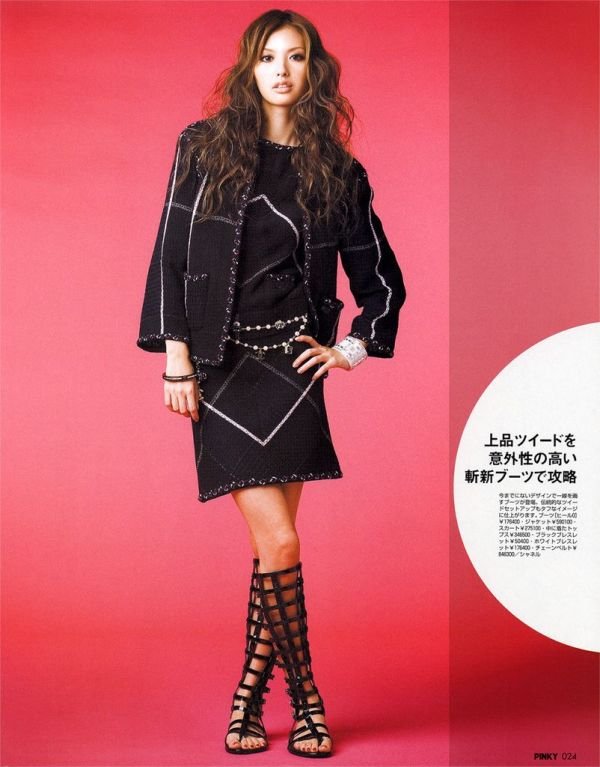 Emi Suzuki (鈴木 えみ born September 13, 1985 in the People's Republic of China) is a Japanese fashion model and occasional actress. Widely known by her nickname Emichee, she has often been described as a "charismatic model" and is particularly popular among gyaru teenagers in Japan.

Born in Shanghai as Wu Ziliang (simplified Chinese: 吴子良; pinyin: Wú Zǐliáng), Suzuki emigrated to Kyoto at the age of 12, becoming a naturalized Japanese citizen. She changed her name to the Japanese Emi Suzuki (鈴木依美).
Shortly after arriving in Japan, she attended Fujinomori Middle School, a public junior high school in Kyoto, and became fluent in Japanese within a year. After graduating from middle school, Suzuki attended Kyoto Ryōyō High School for a short period and later dropped out.
Suzuki auditioned for the fashion magazine Seventeen at the suggestion of a friend, successfully passed the audition in 1999, and began her modeling career at the age of 13. Soon after beginning to appear in the magazine and prêt-à-porter collections for several fashion houses (not designers), her popularity rose, and she became a prominent model. In the late 1999, Suzuki appeared in her first TV commercial for Dancemania Speed 2 alongside Franky Gee.
Around 2002 she began appearing in designer-brands' private collections having strict requirements regarding the BFP standard, and after appearing in the music video for Ketsumeishi's 2005 mega-hit song Sakura, she terminated her contract with Seventeen in 2006 and began her contract with Pinky as an exclusive[vague] model. Since then as one of the most featured models of Pinky, whenever she landed on the cover of the magazine, she was alone, except only one time on 2007. She is labelled under Stardust.
Profile
Name: 鈴木えみ (すずき えみ)
Name (romaji): Suzuki Emi
Birth name: Wu Tsuryan (Japanese spelling of Chinese name)
Chinese name: 吴子良 / Wu Zi Liang
Nicknames: Emichi, Emi-Emi and Eminyan
Profession: Actress and model
Birthdate: 1985-Sep-13 (age 28)
Birthplace: Shanghai, China
Height: 168cm
Weight: 41kg
Star sign: Virgo
Chinese zodiac: Ox
Blood type: AB