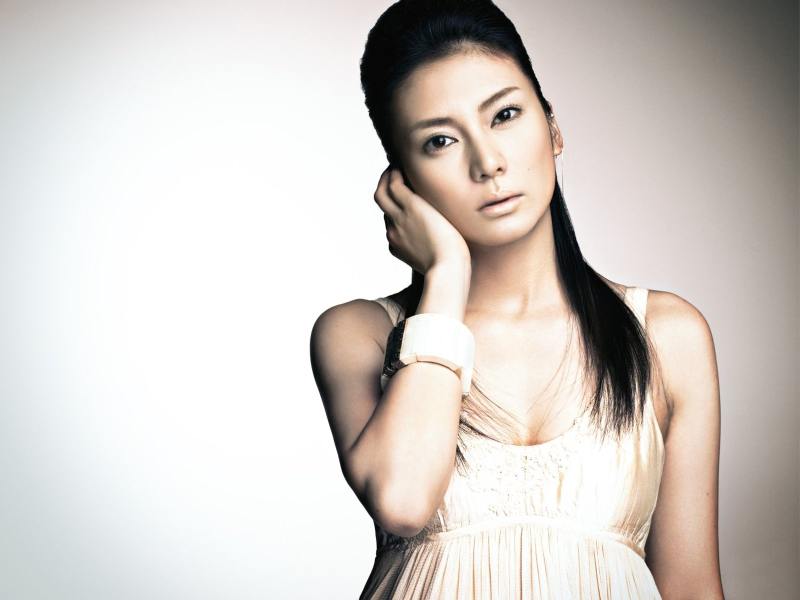 Kō Shibasaki (柴咲 コウ, born Yukie Yamamura August 5, 1981) is a Japanese actress and singer. She is managed by Stardust Promotion. Her stage name is taken from the main character of Junko Kawakami's manga Golden Delicious Apple Sherbet.
Shibasaki has two musical groups: Koh+ (with Masaharu Fukuyama) and Galaxias! (with Deco*27 and TeddyLoid). Shibasaki made her debut in the music industry in 2002 with her first single, "Trust My Feelings", but she became recognized for her second single, "Tsuki no Shizuku", which was used for the movie Yomigaeri.
Although she does not compose her own music, Kō Shibasaki writes the lyrics for most of her songs. Many of her singles have become theme songs for various films, dramas, and commercials. Her single "Lover Soul" was the ending theme song for the live action drama Otomen.
Shibasaki debuted in 2000, when she portrayed the cold, deadly and promiscuous Mitsuko Souma in the cult classic Battle Royale. Her acting career took off with this film and also raised her profile across East Asia. Shibasaki also won critical acclaim for her role as Tsubaki Sakurai in the 2001 film Go, which earned her several awards, including the Best Supporting Actress Award of Japanese Academy, the Hōchi Movie Award, the Kinema Junpō Award. Shibasaki has worked in numerous television shows, movies and commercials.
In 2013, Shibasaki made her "Hollywood debut" in 47 Ronin, a Keanu Reeves-led adaptation of the famous Chushingura story of samurai loyalty and revenge. The film is billed as the first ever English-language adaptation of the legend, based on historical events in the early 18th century.