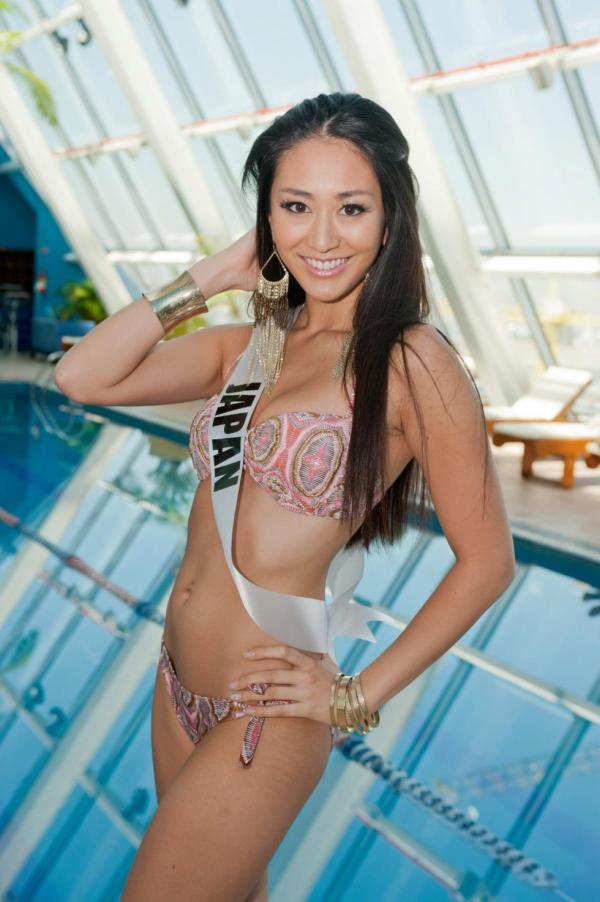 Maria Kamiyama ( 神山 まりあ , Kamiyama Maria , born 17 February 1987 in Tokyo) is a Japanese model who won Miss Universe Japan in 2011.
Maria Kamiyama has been a busy woman since being named Miss Universe Japan in June. She has been learning how to present herself and walk like a beauty contestant, as well as getting beauty and nutritional tips, in preparation for the finals in Sao Paulo, Brazil, on Sept 12.
"I have to do a lot of body training and pay attention to what I eat," said the 23-year-old in excellent English. "We have to eat 80% healthy and for the rest, whatever we want. I love sweets and a life without sweets would be really stressful."
Born in Tokyo, Kamiyama graduated in English literature at Seikei University before heading off to Hawaii where she spent a couple of years. While there, she worked at American Eagle Outfitters. "It was a great time," she recalls. "I remember going shopping at Wal-Mart just in a bikini and flip flops. It felt natural, but when I came back to Tokyo, I thought I can't do that anymore."
Until recently, Kamiyama had been working as a salesperson in a clothing store in Ginza. The idea to enter the Miss Universe Japan contest came about a year ago. "I always thought that beauty contestants lived in another world," she said, "but I also thought that being in one would give me the chance to make a difference in my life and help others. I didn't tell anyone, not even my family, when I applied because I was a bit embarrassed. I was still in Hawaii when the Tokyo audition was held, so I had to go to the Osaka one when I returned to Japan. I asked my sister to come with me and then I told her. After a second audition, my parents found out and said, 'No, that is not you.'"
Her family soon changed their tune. When Kamiyama's name was called out at the Japan final at Tokyo Dome, there was a scream. "That was my mother. She cried and went crazy," she said.
As Japan's representative, Kamiyama is conscious of the fact that she represents the modern Japanese woman. "When I was in Hawaii, most people thought Japanese women cannot or don't express their opinions. I think I am a fairly opinionated person, so I hope I can give a good impression."
She also knows that the March 11 disaster will be a topic of conversation whenever she goes abroad. "I have been to Tohoku a couple of times to do volunteer work. We played with children in Miyagi and Fukushima and Sendai. The first time I was really sad because everything was a mess. But when I met the children, they were so 'genki' and that lifted my spirits. I want to tell everyone: 'Thank you for helping us.' Japanese have a resilient spirit and we will recover."
Kamiyama says she is most interested in children's health issues, particularly vaccinations. "I know there are a lot of children suffering overseas, too, and I want to make sure that people in Japan are aware of that."
So what is the real Kamiyama like, away from the glitz? "Well, I don't like heights. Ghosts scare me. I cried when I saw Sean Penn's film 'Into the Wild.' If I could have dinner with any movie star, it would be Angelina Jolie. I like surfing, hip hop dancing, the music of Alicia Keys and Jack Johnson and cooking. Please try my salmon with sautéed onions."
Is that all? "No, if you really want to make me happy, just give me a cheesecake and a fork and I'll eat the whole lot. Well, maybe not until after the final," she says.
First Name: Maria
Last Name: Kamiyama
Born: 17 February, 1988
Birthplace: Tokyo, Japan
Height: 5ft 7in (1.70 m)
Astrological Sign: Aquarius
Nationality: Japanese
Occupation: Model
Filmography: Miss Universe 2011 (2011, TV Movie)