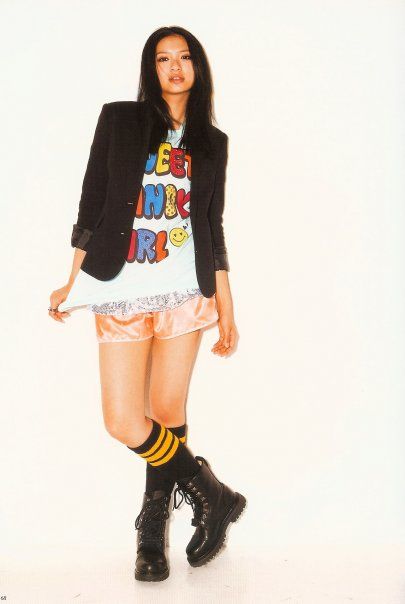 Nana Eikura (榮倉 奈々 Eikura Nana, born February 12, 1988) is a Japanese model, actress, and occasional radio show host affiliated with Ken-On Group.
She was born in Izumi, Kagoshima, and raised in Sagamihara, Kanagawa.While a junior high student, she was scouted in front of the 109 department store in Shibuya, Tokyo. During her middle-teenage years, Nana modeled in several fashion magazines, mainly in Seventeen.
During the 2000s, Eikura was featured in Seventeen along with Emi Suzuki and several others. Eikura later began appearing in various advertisements and collections in the mid-2000s and has appeared in many TV advertisements. A model turning into an actress is usually considered a "loser" in modeling, but Eikura, a successful model, began acting in the mid-2000s. Since around 2007, Eikura has intentionally gained nearly 12 kg (27 pounds).
In the mid-2000s she sometimes nicknamed herself the "Spider", like "Spider Eikura", after her top favorite MMA fighter, who has thin and long arms, Anderson "The Spider" Silva. She was also given the nickname relating to combat sports "Samoan Eikura" because of her facial resemblance to Mark Hunt and Samoa Joe.[3] In 2006 soon after PRIDE Critical Countdown Absolute, Eikura, under the nickname Samoan Eikura, interviewed Mark Hunt on the Tokai TV show The MMA Kingdom where Hunt said "I've never seen such a skinny Samoan".
Eikura first worked with Masami Nagasawa in 2006, and since then she has appeared in eight TV commercials with Nagasawa. Nagasawa has frequently described Eikura as an "incredibly" nice person, as many models whom Nagasawa has worked with were "incredibly" arrogant to her, mocking her, and some of them even physically assaulted her. This was backed up by Rosa Kato and Asami Mizukawa who have worked with many models. Kato supported Nagasawa and cited Eikura as being "not a typical model because Eikura doesn't slur actresses".
Eikura has appeared in advertisements for non-fashion/non-cosmetic items, including Coca-Cola, the Japanese Red Cross, Japan Post Service, Johnson & Johnson's Japanese branch, KDDI's au, Lion, and Nintendo's videogame Rhythm Heaven.She has also appeared in non-fashion magazines as a model. The latest one is an appearance on the NASCAR-orientated magazine Racing On with Emi Suzuki's protégé "No Mercy" Nozomi Sasaki.
Eikura can play shamisen, has a diploma, and can sing in fluent Ryukyu language, which she learned from her modeling colleagues who were from Okinawa.She once covered Rimi Natsukawa's song "Nada Sōsō" on a Kinki Kids' TV show in 2007.
She appeared in Shinji Aoyama's 2011 film Tokyo Park.She starred as Sakamaki Yuki in the winter 2012 drama serial Saikō no Jinsei no Owarikata: Ending Planner.
Profile
Name: 榮倉奈々 (えいくら なな)
Name (romaji): Eikura Nana
Nicknames: Nana-chii, Ei-chan, Eikurara, Samoan Nana
Profession: Actress, model, radio DJ
Birthdate: 1988-Feb-12 (age 27)
Birthplace: Izumi, Kagoshima, Japan
Height: 170cm
Weight: 51kg
Star sign: Aquarius
Blood type: A